Renew of Faith
Wolf Creek, Book 9:
Romancing The West is pleased to present a double feature:
Wolf Creek, Book 9,
A Wolf Creek Christmas
, and
Wolf Creek Book 10, O Deadly Night
. Each volume contains six Christmas stories, all centering around Wolf Creek in 1871, written by award-winning western authors. Today, RTW features western author and Texas Ranger artifact collector,
James J. Griffin
.
James J. Griffin
About James
I've been a student of the West, and particularly the Texas Rangers, since I was a kid. I've also been a horseman most of my life, and enjoy nothing quite so much as getting into the saddle and riding out into the woods and hills for the day, just me and my horse. In Ben Tolliver, I've combined my love of horses and the Texas Rangers.
My other novels are all Texas Ranger tales. My stories are very traditional Westerns, with strong heroes who have good moral codes.
While I'm a native New Englander, and love this part of the country more than anywhere else in the world, I also love the West, and travel out there whenever I get the chance. I've got a good friend in retired Texas Ranger and Baylor professor Jim Huggins, who helps with my research. Other good friends in Texas are Karl Rehn and Penny Riggs, who lend me their expertise on weapons of the old West. My extensive collection of Texas Ranger artifacts is now in the permanent collections of the Texas Ranger Hall of Fame and Museum in Waco.
For more information about myself and my books, visit my
website
.
James' story: Renewal of Faith
Texas-Ranger-turned-livery-owner Ben Tolliver and his son Danny get a very unexpected Christmas gift. Then they meet and befriend the new Catholic priest who has come to establish a mission at Wolf Creek, in time to perform Christmas Mass -- but Ben finds much of the town opposed to the father's presence. Ben is determined that the Mass will be held, if he has to fight a mob to see it done...
About Ben Tolliver
My character, Ben Tolliver, is semi-autobiographical, at least when it comes to his love of horses. Just like Ben, I believe that horses are God's greatest creation, next to humankind, and sometimes I think that horses are greater. And as a lifelong Catholic, I was happy for the opportunity to bring the Catholic faith to the town of Wolf Creek.
Quite a few things happen to Ben during Christmas season of 1871. When
Renewal of Faith
begins, he is upset with his son, Danny, and his questions about church. Ben's resentment against his late wife's parents for hiding Danny from him finally boils over. Ben would just as soon spend Christmas alone with Danny and their horses, in fact he'd prefer it that way. I'm kind of like Ben in that way. Christmas used to be huge family event, but with my parents now gone, my sisters and their families in Florida or Virginia, except for two of my nieces, my brother usually gone to his partner Joanne's family, I now usually end up spending Christmas alone, and I've learned I kind of enjoy it that way at this point in my life. I go to early Mass Christmas morning, then spend most of the day with my dog and horse, except for dinner at my niece's and her husband's. However, as Ben will discover, there's nothing quite like having folks around at Christmas. It will take quite a few battles before he finally finds some of the inner peace that has been eluding him.
There's also some interesting side stories in
Renewal of Faith
. We meet two new arrivals to Wolf Creek, Father Sean Flannery, who has been sent to establish a mission, and Katy McBride, a feisty Irish gal who sees right through Billy Below's and Jimmy Spotted Owl's stunts. Katy's plans to establish a saloon right smack dab in the middle of the respectable part of town is bound to upset the proverbial applecart. It remains to be seen, but there could well be a romance in the future between Katy and…
You'll need to read the story to find out whom.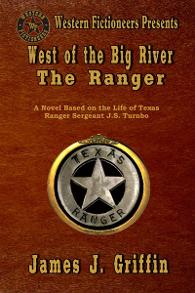 What's new from James
Acclaimed author James J. Griffin, noted for his fine stories of the Texas Rangers, joins the West of the Big River stable with THE RANGER, a short novel featuring real-life Ranger Sergeant J.S. Turnbo. Tangling with rustlers, bank robbers, and road agents is all in a day's work for Turnbo as he fights to bring law and order to the area around Abilene and San Angelo, Texas, but solving a deadly mystery will put Turnbo's life in more danger than ever before. It'll take all of the Ranger's wits and gun-handling skills to keep him alive as he untangles the strands of a lethal conspiracy!
THE RANGER is a novel based on historical characters and situations in the bestselling West of the Big River series from Western Fictioneers. Don't miss any of these action-packed tales!
by Jory Sherman
by Meg Mims
by Jerry Guin
'Twas the Fight before Christmas
by Jacquie Rogers
by Troy D. Smith
by James J. Griffin
Sarah's Christmas Miracle
by Big Jim Williams
Irish Christmas at Wolf Creek
by Charlie Steel
A Home for Christmas
by Cheryl Pierson
by Chuck Tyrell
by Clay More
by Troy D. Smith